Indoor League
This is our last summer season and we will be closing our business at the beginning of winter. Pro Shop will be open limited hours through Christmas. There will be no indoor golf or league this winter. Our simulator is for sale, contact us for details at info@golfcedarburg.com
Our Winter Indoor Golf League is back!  Already have a summer golf league, want to challenge your friends, or are you looking for an activity for your business or organization?  Then start your own indoor golf league this winter. Keep that cabin fever away and the golf swing in tune, even when the snow is flying!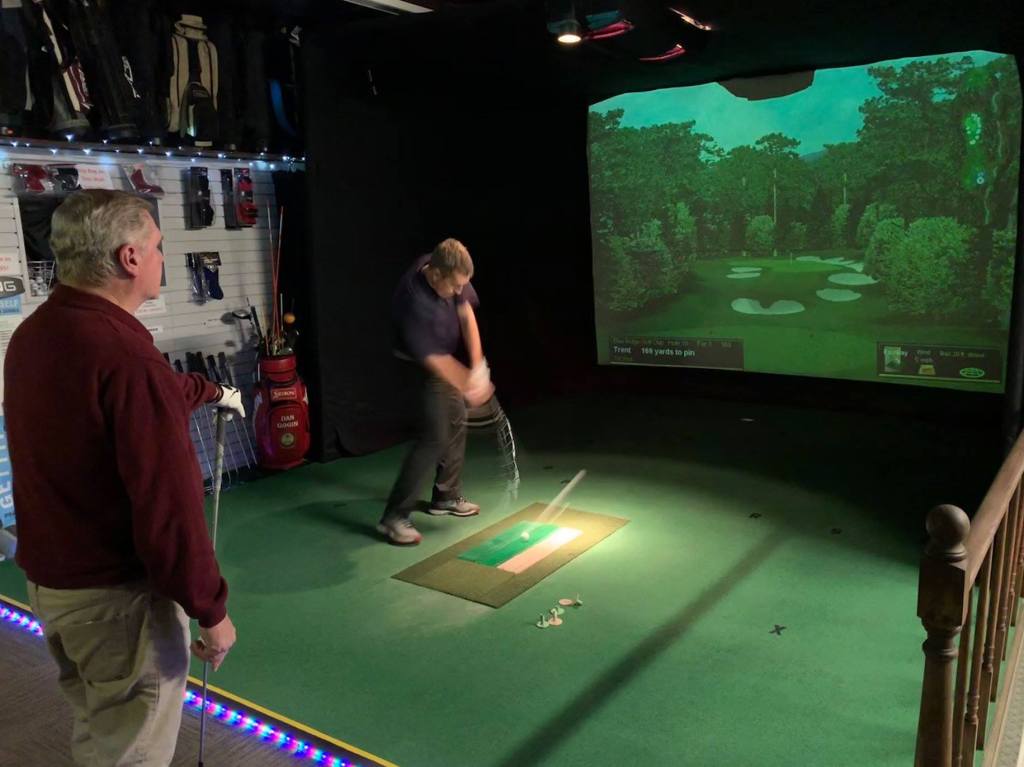 How Our Indoor League Works
2-person teams play 9 holes (1 hour) on a different course each week at the same day/time (weekdays only)
For example, Jim and Sue play every Tuesday night from 6-7pm (League play available weekdays only)
If you want to get three other friends together your foursome can reserve two hours and play together each week.
12-week league begins the week of January 6th, 2020 [Open, Junior, Senior(62+) & Ladies Divisions]
There is a $2 optional Skins game each week
Each team receives a free hour on the simulator to warm up pre-season (must be used by start of league).
Have a question? Call our Pro Shop: 262-377-0768. Alternate signup method, print and drop off this PDF form.
When You Play
Current Winter League Slot Availability (updated 1/3/20)
(This is only to use as a planning guide, spots are reserved on a first paid/first reserved basis. For reference we had 32 teams last year, so get your preferred spot early, thanks! "X" indicates a spot that is filled, empty spots are still available.)
| | | | | | |
| --- | --- | --- | --- | --- | --- |
|   | Monday | Tuesday | Wednesday | Thursday | Friday |
| 10-11am | X | X | X | X |   |
| 11am-12pm | X | X |   | X |   |
| 12-1pm | X |   |   | X |   |
| 1-2pm | X | X |   | X |   |
| 2-3pm | X | X |   |   |   |
| 3-4pm | X |   |   | X |   |
| 4-5pm | X |   | X | X |   |
| 5-6pm | X | X | X | X |   |
| 6-7pm | X | X | X | X |   |
| 7-8pm | X | X | X | X | X |
| 8-9pm |   | X | X | X | X |
League Fees
Break it down and it's just $15 per week!
$180 per person now or $95 at signup and $95 by midseason
League Format
Both golfers play each hole completely, best score on each hole is counted for the team score.
Handicapping System

The first 2 weeks of league scores will be used to begin the establishment of a team handicap. Because of this, the first 2 weeks will be scored on a Gross team Best Ball with no handicaps
After the first 2 weeks, the established team handicap will be applied to the following 2 weeks' scores. Every 2 weeks handicaps will be adjusted to be used for the following 2 weeks.
Handicaps will be calculated by taking 80% of the average team score over par each 2 week period.
League Rules
There are no mulligans allowed. In the case of an error with the simulator please notify staff and we will make an adjustment.
Any shots that do not register may be replayed without penalty
Teams may join after the season has started but cannot earn League Points for weeks that have already passed. League fee will be pro-rated depending on how many weeks were missed, with a maximum of 2.
Anyone not finishing in their allotted time will have the remaining holes averaged out based on how far under/over par they are at that point.
Shots must be played from the appropriate lie (Fairway, Rough or Sand)
Maximum 8 strokes per hole
Teams must wrap up play by about 4-5 minutes before the hour and be completely cleared from the simulator by the turn of the hour so the next team can start on time.
Scheduled Play & Makeups
If a team knows they will not be able to make a particular week you can play ahead of time if there is an open slot. If you are unable to play ahead of time you can substitute a player(s) for that week.
There are no makeups unless the Pro Shop is closed due to inclement weather. Please have at least one or two friends in mind to substitute for you in case you can't make it on a particular week due to a scheduling conflict or illness.
There is no league play on weekends. If you will not be able to make a particular week please try playing ahead of time, otherwise find a substitute for that week.