Adult Group Lessons-Get Golf Ready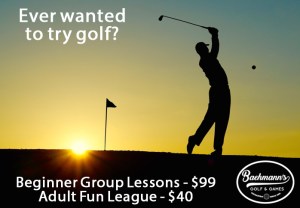 If you're looking to get into the game or brush up on your skills, we have Group Lessons so you can learn in a low-stress, inhibition-free environment from our Teaching Pro, Dan Gogin. These lessons will start you from scratch, teaching you basic skills and including both driving range and on-course instruction in everything from driving and chipping to putting.  So whether you've golfed a little and a friend showed you the basics, or you've never picked up a club before, these lessons will help you enjoy the game for years to come.  And if you want to take those skills right out to the course, you can sign up for our Beginner League, which starts 15 minutes after the lesson, and have fun with others that are new to the game!
In order to keep everyone safe during these times we'll be limiting groups to only 6 participants, spacing out every other station, range balls and buckets are sanitized, and Dan will be practicing a non-contact teaching philosophy.
Session 1 (4 weeks)
Wednesdays 5:15-6:15pm
April 29, May 6, 13, 20 (Raindate May 27)
Session 2 (4 weeks) FULL
Wednesdays 5:15-6:15pm
June 3, 10, 17, 24 (Raindate July 8)
Session 2.5 (4 weeks) (Due to increased demand we've added another session)
Wednesdays 4-5pm
June 17, 24, 29, July 8, 15 (Raindate July 22)
Session 3 (4 weeks)
Wednesdays 5:15-6:15pm
July 15, 22, 29, Aug 5 (Raindate Aug 12)
Session 4 (4 weeks)
Wednesdays 5:15-6:15pm
Aug 19, 26, Sept 2, 9 (Raindate Sept 16)
Session 5 (4 weeks)
Wednesdays 5:15-6:15pm
Sept 23, 30, Oct 7, 14 (Raindate Oct 21)
Cost: $99 per person, limited to 6 participants.  Includes all range balls and greens fees for on-course instruction.
Weeks 1 & 2: Full Swing Posture, Grip & Alignment
Week 3: Pitching & Chipping
Week 4: Putting/Play on the course with the Pro

For more information on any of the lessons or to sign up for Private Individual or Group Lessons call the Pro Shop at (262) 377-0768.