FootGolf
Soccer + Golf = FootGolf!
The newest sport taking the world by storm has come to Cedarburg!  Just like regular golf, players kick off from a tee box and attempt to get their soccer ball in the cup in the least amount of kicks.  The larger 21-inch diameter cups are placed off to the side of the regular golf greens.  You can kick out of the sand, over the water, or around a tree, just not off the top of the green's putting surface.
Players bring their own size 5 soccer ball (or smaller for juniors), though we have rental balls available as well for only $3.  
It's not only fun, but a great training aid encouraging more precise kicking techniques.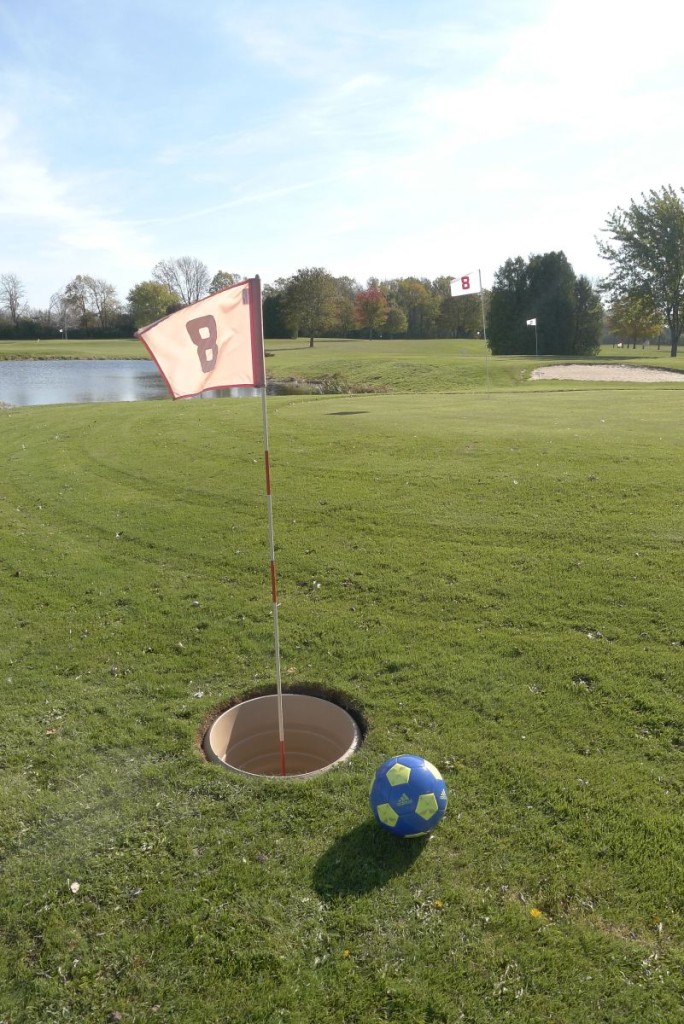 *****NO SOCCER CLEATS ALLOWED*****
Indoor soccer shoes or or tennis shoes only please, as cleats would damage the course.
NOTE: Walk-alongs are not allowed on the course, everyone must be a paid player. No strollers or carry-ins allowed, we have tasty Food & Beverages, thanks!
Got a Soccer Team? Bring them out and take advantage of our Soccer Practice Area, which is included free of charge with our FootGolf Party Packages. It has a goal, cones and a soccer tennis net. One coach plays free! Contact us to reserve your team's time: info@golfcedarburg.com or 262-377-0768.
FootGolf Party Package
Whether you have a soccer team, social organization, birthday party or a group of employees looking for a team-building activity, we're your spot for a fun activity that won't break the bank! 
9 holes of FootGolf for up to 8 guests

Soccer ball rental

Event space rental for up to 2 hours

Pizza OR Hot Dogs

1 Gatorade or Soda per guest

1 Bag of chips per guest

Plates, napkins & utensils

May bring your own cake/cupcakes & decorations

Use of yard games such as cornhole, ladder toss, washer toss

Non-refundable deposit of $75

$175 plus tax. Extra guests are $14 each
To inquire or reserve your spot please contact Kurt Baehmann in the Pro Shop at 262-377-0768 or email info@golfcedarburg.com
Cost: $7 (weekdays) & $8 (weekends/holidays) for 9 holes
No reservations required, but they are encouraged. Please click on TEE TIMES here or at the top of the page to reserve your space, or call us at 262-377-0768.