This is our last summer season and we will be closing our business at the beginning of winter. Pro Shop will be open limited hours through Christmas. There will be no indoor golf or league this winter. Our simulator is for sale, contact us for details at info@golfcedarburg.com
Golf Simulator, over 130 courses to choose from!
Come alone, with friends or as part of a group, just bring your clubs and be prepared to play one of 134 real courses from across the globe, including St. Andrews, Torrey Pines and Firestone. You'll feel like you're actually driving shots through the crisp Scotland air or the balmy California morning. And you'll do it all within the comfy confines of Baehmann's Golf Center golf simulator near Milwaukee in Cedarburg, Ozaukee County. Get directions.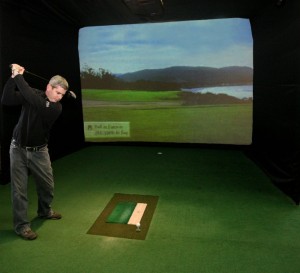 We are proud to offer a state-of-the-art Indoor Golf Simulator, giving you the opportunity to either practice your game, or just enjoy golfing with some friends while it's snowing outside. Just like our Pro Shop, the Simulator is open year-round. You have your own TV so you can watch the game while golfing with your buddies! 
We also serve your favorite Beers, Soda and Gatorade, along with Hot Dogs, Brats and Pizza! (No Carry Ins Please.)
We offer a fun Indoor Golf League.  Grab a friend and play a different course from around the world each week! Please visit our Leagues page for more information or Click Here for the sign-up form.
Simulator Info
$30 per hour (split among whoever plays)
Usually 2 people can play about 9 holes per hour, or 18 holes per hour for one person
Current hours for the Pro Shop can be found here. To make a reservation you can either call the Pro Shop at 262-377-0768 or click on Tee Times to reserve online. 
To make the most of your time, please arrive early and allow 5-10 minutes for orientation and setup, and be sure to finish with enough time to clear the sim before the next group.
To avoid over-booking, players will be charged for amount of time reserved, even if less time is used.
No golf shoes please, clean, comfortable shoes work best (softspikes will tear up the astroturf)
No outside food or beverages allowed please, we've got tasty Beer, Soda, Hot Dogs, Brats & Pizza available!
All clubs and golf balls must be completely clean to not mark the projection screen
Available Courses
Abbot's Bridge
Apple Hill Resort – Red Apple
Apple Isle Golf Links
Atlantic Bay Country Club
Augusta National (Public Course)
Australian Links
Azalea Hills Golf Club
Baldoon Golf Club
Banff Springs Golf Club
Bay Hill
Beacon Ridge
Bedfellow Farms Golf Course
Beggars' Island
Belfry Brabazon
Belize Audubon Trail
Bergen in Chiemgau
Blue Ridge Golf Club
Carlsberg Old Course
Castillo Rogue del Moro
Castle Ashdown
Castle Pines
Cathedral Rock
Champion Road (Lake Side)
Chaparrel Valley
Chaska Town Course
Cherry Hills C. C.
Chiemsee GC (Southcourse)
Citadel
Cobblechase
Coconos Greens
Cocos Island
Cog Hill
Cougar Cove CC
Country Club of Staten Island
Creek Field Golf Club
Cypress Point
Death Valley Spires CC
Desert Canyon
Doral Country Club
Druids Glen
Durango West
Eastwood Hills CC (Stormy)
Emerald Quays GC
Fire Canyon Golf Club
Fire Island Golf Links
Firestone CC
Fort Worth CC
Fox Chase CC
Gaulic Village
Glen Abbey
Glenhurst Golf & Country Club
Goodfellas Golf Club
Haunted Hills C. C.
Henderson Golf Club
Heritage Lakes C. C.
Highview Country Club
Indian Springs G.C.
Inverness Club
Irish Glenn Links
Ixtapa Golf Club
Izanami Dream
Johnson's Atoll
Kahanamouri Valley
Kapalua – Plantation Course
King's Ransom
Kingsmill Resort – River Course
Kingston Run Golf Club
Konohiki Diamond CC
Kyoto Challenge Golf Club
Lake Minnetonka National
Maple Leaf G.C.
Meadowlake
Merion East Course
Mimico Trail
Monterey Bay
Muirfield
New Hartselle Creek CC Estates
Nicholson's Grant
NYC Athletic Club
Pastorius Golf Club
Patagonia Plains
Peatbog Country Club
Pelican Hill – Ocean
Pine Creek South
Pinehurst No. 2
Pinery Narrows CC
Pitch n Putt 9 holes
Plantation Golf Club
Portmarnock Golf Club
Quail Hollow
Quail Abbey
Quinta do Lago Golf Club
Rapa-Nui
Ravenswood New Course
Ridgewood
Riviera Country Club
Rolling Evergreen
Royal Auckland GC
Royal Dornoch
Royal Hong Kong GC
Royal Hull Golf vClub
Royal Lytham-St Annes
Royal Ottawa Golf Club
Saguaro Canyon GC
Sahalee Country Club
Saint Vincent
Shoal Haven GC
Sleepy Hollow
Outhern Hills CC
St Andrews Old Course
St Mellion
Stellarton Valley Golf Course
Teeth of the Dog
Terra Nova GC
The Algonquin Golf Resort
The Blackheath Club
The Canyon
The Country Club at Brookline
The Ginn Farm Golf Course
The Lakes of Junaluska
The Olympic Club
Three Birches Country Club
Ticino Lakes
Timber Crest
Torrey Pines South
TPC Sawgrass
TPC Avenel
Valley of the Kings
Volcans Golf Club
Watershed Hollow
White Xmas Dream
Willow Creek
World Open Select Club